Pétition : Sauvez Cold Case sur Internet !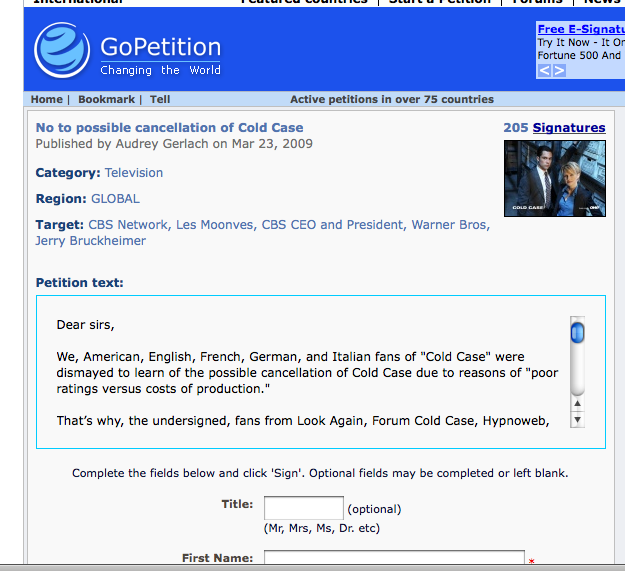 Des fans se mobilisent pour sauver la série... voici leur déclaration... en anglais...
Si vous voulez signez la pétition tout comme nous allez sur le site
Cliquez Ici
Dear sirs,
We, American, English, French, German, and Italian fans of "Cold Case" were dismayed to learn of the possible cancellation of Cold Case due to reasons of "poor ratings versus costs of production."
That's why, the undersigned, fans from Look Again, Forum Cold Case, Hypnoweb, Coldcase Italia and others Websites, request CBS not to cancel our favorite TV show after season 6th for several reasons :
1) Cold Case is popular world-wide and has an avid international following. The show casts an interesting and original light on many events in American history. In each episode sensitive subjects such as the war in Iraq, postpartum depression, racism, gun control, spousal abuse, etc.
2) The show receives critical acclaim and achieves very good ratings in all countries which broadcast it. For example, France 2 (French network) which is airing the show, had the best ratings with the latest 4th season broadcasts ( 6 / 7 millions viewers that is a 28 % rating.) So Cold Case is 6th among the 20 best shows aired on France 2 !
In Italy, viewership has consistently increased year-over-year. Indeed, the two first seasons of Cold Case achieved 10 - 10.20 % ratings for Raï Due (Italian network). Seasons 3 & 4 achieved a 10.34%, which increased to 11.77 % in season 5.
In the United States, Cold Case has held its own against "Desperate House Wives" on ABC. It even garnered better ratings when it was switched from its usual time slot, in the case of Feb. 15th's "Witness Protection." Demonstrating that the fans will follow the show no matter when it airs.
3) Furthermore, Cold Case has received several prestigious industry awards --best tv music by ASCAP in 2004/2005, the Image Award for best director (2005), the GLAAD media Award for best story (2006) , and was nominated for an Emmy in 2005. Cold Case has been awarded many times through the world : in France for example, the fans voted Kathryn Morris as best actress for playing Lilly Rush.
4) And finally, Cold Case is a collection of great writers, producers, actors, and technicians, whom fans respect a lot for their work. So please, be respectful of us fans : give us at least a 7th season which could allow this formidable drama to close in a way that it deserves.
Thanks for your time and attention!
Sincerely,