Upfronts 2013 : Renouvelées, annulées, commandées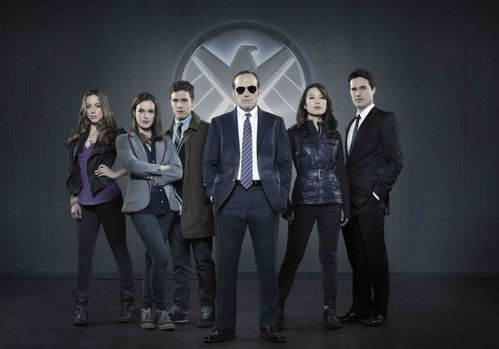 Voici la liste des séries renouvelées pour la saison 2013/2014 :


Renouvelées
Grey's Anatomy (Saison 10)
Castle (Saison 6)
Modern Family (Saison 5)
The Middle (Saison 5)
Scandal (Saison 3)
Suburgatory (Saison 3)
Revenge (Saison 3)
Once Upon a Time (Saison 3)
Last Man Standing (Saison 3)
Nashville (Saison 2)
The Neighbors (Saison 2)

Annulées
Private Practice (6 saisons, 111 épisodes)
Body of Proof (3 saisons, 42 épisodes)
Happy Endings (3 saisons, 57 épisodes)
Don't Trust the Bitch in Apartment 23 (2 saisons, 26 épisodes)
How to Live with Your Parents for the Rest of Your Life (1 saison, 13 épisodes)
Family Tools (1 saison, 10 épisodes)
666 Park Avenue (1 saison, 13 épisodes)
Zero Hour (1 saison, 13 épisodes)
Last Ressort (1 saison, 13 épisodes)
Malibu Country (1 saison, 18 épisodes)
Red Widow (1 saison, 8 épisodes)

Commandées
Agents of SHIELD
Avec Ming-Na Wen, Clark Gregg, Elizabeth Henstridge, Iain de Caestecker, Brett Dalton, Chloe Bennet, Colbie Smulders (Guest), Shannon Wcio, J. August Richards - De Joss Whedon
The Goldbergs
Avec Wendi McLendon-Covey, Jeff Garlin, Hayley Orrantia, Darien Provost, George Segal, Troy Gentile - De Adam F. Goldberg
Mixology
Avec Kate Simses, Ginger Gonzaga, Blake Lee, Andrew Santino, Adam Campbell, Craig Frank, Vanessa Lengies, Alexis Carra, Sarah Bolger - De Jon Weas et Scott Moore
Super Fun Night
Avec Rebel Wilson, Liza Lapira, Lauren Ash, Kelen Coleman, Kevin Bishop
Trophy Wife
Avec Malin Akerman, Bradley Whitford, Michaela Watkins, Marcia Gay Harden, Ryan Scott Lee, Natalie Morales, Albert Tsai, Gianna LePera
Betrayal
Avec Henry Thomas, Stuart Townsend, Hannah Ware, Chris Johnson, James Cromwell, Wendy Moniz, Elizabeth McLaughlin, Braeden Lamasters - De David Zabel
Resurrection
Avec Matt Craven, Devin Kelley, Samaire Armstrong, Sam Hazeldine, Mark Hildreth, Omar Epps, Kurtwood Smith, Landon Gimenez - De Aaron Zelman et Jason Mott - Produit par Brad Pitt
Back in the Game
Avec James Caan, Griffin Gluck, Maggie Lawson, Ben Koldyke, Lenora Crichlow - De Mark Cullen et Robb Cullen
Killer Women
Avec Tricia Helfer, Marc Blucas, Marta Milans, Michael Trucco - De Ben Silverman - Produit par Sofia Vergara
Lucky 7
Avec Steve Zahn, Christian Slater, Megalyn Echikunwoke, Cedric Sanders, Gregory Marcel, Wynn Everett - De Kyle Killen
Once Upon a Time : Wonderland
Avec Matt Long, Isiah Whitlock Jr, Stephen Louis Grush, Luis Antonio Ramos - De David Zabel et Jason Richman



Renouvelées
Les Experts (Saison 14)
NCIS : Enquêtes Spéciales (Saison 11)
Two and a Half Men (Saison 11)
Esprits Criminels (Saison 9)
How I Met Your Mother (Saison 9)
The Big Bang Theory (Saison 7)
The Mentalist (Saison 6)
NCIS : Los Angeles (Saison 5)
The Good Wife (Saison 5)
Hawaii Five O (Saison 4)
Blue Bloods (Saison 4)
Mike & Molly (Saison 4)
Person of Interest (Saison 3)
2 Broke Girls (Saison 3)
Elementary (Saison 2)

Annulées
Les Experts : Manhattan (9 saisons, 197 épisodes)
Rules of Engagement (5 saisons, 99 épisodes)
Golden Boy (1 saison, 13 épisodes)
Vegas (1 saison, 21 épisodes)
Partners (1 saison, 13 épisodes)
Made in Jersey (1 saison, 8 épisodes)

Commandées
Mom
Avec Anna Faris, Allison Janney, Blake Garrett Rosenthal, Nate Corddry, Sadie Calvano, Matt Jones, Spencer Daniels, French Stewart - De Chuck Lorre, Eddie Gorodetsky et Gemma Baker
We Are Men
Avec Chris Smith, Kal Penn, Tony Shalhoub, Rebecca Breeds, Jerry O'Connell - De Rob Greenberg
Hostages
Avec Toni Collette, Dylan McDermott, Tate Donovan, Danni Sanders, Sandrine Holt, Mateus Ward, Rhys Coiro, Billy Brown, James Naughton - De Jeffrey Nachmanoff - Produit par Jerry Bruckheimer
The Millers
Avec Will Arnett, Margo Martindale, Beau Bridges, J.B Smoove, Mary Elizabeth Ellis, Michael Rapaport - De Greg Garcia
Crazy Ones
Avec Robin Williams, James Wolk, Sarah Michelle Gellar, Hamish Linklater, Amanda Setton - De David E. Kelley
Intelligence
Avec Josh Holloway, Marg Helgenberger, Meghan Ory, Michael Rady, John Billingsley - De Michael Seitzman
Reckless
Avec Cam Gigandet, Anna Wood, Michael Gladis, Shaw Hatosy, Adam Rodriguez, Gregory Harrison - De Ian Sander et Kim Moses



Renouvelées
The Simspons (Saison 25)
Bones (Saison 9)
Glee (Saison 5 et 6)
Raising Hope (Saison 4)
Bob's Burgers (Saison 4)
New Girl (Saison 3)
The Mindy Project (Saison 2)
The Following (Saison 2)

Annulées
Fringe (5 saisons, 100 épisodes)
The Cleveland Show (4 saisons, 88 épisodes)
Touch (2 saisons, 26 épisodes)
Ben & Kate (1 saison, 16 épisodes)
The Mob Doctor (1 saison, 13 épisodes)

Commandées
Dads
Avec Giovanni Ribisi, Seth Green, Martin Mull, Brenda Song, Peter Riegert, Tonita Castro, Vanessa Lachey - De Alec Sulkin et Welleskey Wild - Produit par Seth McFarlane
Brooklyn Nine-Nine
Avec Andy Samberg, Andre Braugher, Terry Crews, Melissa Fumero, Stephanie Beatriz, Chelsea Peretti, Joe Lo Truglio
Sleepy Hollow
Avec Orlando Jones, Katia Winter, Nicole Beharie, Tom Mison, John Cho (Guest - Pilot) - De Alex Kurtzman et Roberto Orci - Pilote réalisé par Len Wiseman
Surviving Jack
Avec Christopher Meloni, Claudia Lee, Kevin Hernandez, Alex Kapp Horner, Thomas Kasp, Troy Romzek, Damaris Diaz, Connor Buckley - De Bill Lawrence et Justin Halpern
Us and Them
Avec Jason Ritter, Alexis Bledel, Jane Kaczmarek, Kurt Fuller, Kerri Kenney-Silver - De David Rosen
Rake
Avec Greg Kinnear, Rachel Griffiths, Miranda Otto, Bojana Novakovic, Necar Zadegan, John Ortiz, David Harbour
Almost Human
Avec Michael Ealy, Michael Irby, Mackenzie Crook, Minka Kelly, Karl Urban, Mekia Cox - De J.H Wyman - Produit par J.J Abrams
Enlisted
Avec Keith David, Geoff Stults, Angelique Cabral, Parker Young, Chris Lowell - De Kevin Biegel
Gang Related
Avec Terry O'Quinn, Ramon Rodriguez, Sung Kang, Jay Hernandez, Cliff Curtis, Shantel VanSanten - De Chris Morgan - Produit par Scott Rosenbaum

FOX négocie également la commande d'une mini série évènement de 13 épisodes de 24 avec Kiefer Sutherland.



Renouvelées
New York, Unité Spéciale (Saison 15)
Parks & Recreation (Saison 6)
Parenthood (Saison 5)
Community (Saison 5, 13 épisodes)
Grimm (Saison 3)
Chicago Fire (Saison 2)
Revolution (Saison 2)

Annulées
The Office (9 saisons, 200 épisodes)
30 Rock (7 saisons, 140 épisodes)
Up All Night (2 saisons, 35 épisodes)
Whitney (2 saisons, 38 épisodes)
Smash (2 saisons, 32 épisodes)
Animal Practice (1 saison, 8 épisodes)
Guys with Kids (1 saison, 17 épisodes)
Next Caller (1 saison, 4 épisodes, annulée avant diffusion)
Do No Harm (1 saison, 13 épisodes)
Deception (1 saison, 11 épisodes)
1600 Penn (1 saison, 13 épisodes)
Go On (1 saison, 22 épisodes)
The New Normal (1 saison, 22 épisodes)

Commandées
Crossbones
Avec John Malkovich - De Neil Cross
Dracula
Avec Jonathan Rhys Meyers, Jessica de Gouw, Victoria Smurfit, Nonso Anozie, Katie McGrath, Thomas Kretschmann, Oliver Jackson-Cohen - Produit par Tony Krantz et Colin Callender
The Michael J. Fox Show
Avec Michael J. Fox, Wendell Pierce, Betsy Brandt, Katie Finneran, Conor Romero, Jack Goor, Steve Howey, Ana Nogueira, Juliette Goglia
About a Boy
Avec David Walton, Minnie Driver, Anjelah Johnston, Benjamin Stockham, Leslie Bibb, Al Madrigal - De Jason Katims
Crisis
Avec Gillian Anderson, Dermot Mulroney, Max Martini, Rachael Taylor, Max Schneider, Lance Gross, Halston Sage, James Lafferty, Michael Beach
Sean Saves the World
Avec Sean Hayes, Linda Lavin, Echo Kellum, Thomas Lennon, Lindsay Sloane, Vik Sahay
Family Guide
Avec J.K Simmons, Eli Baker, Ava Deluca-Verley, Harold Perrineau
Believe
Avec Jack McLaughlin, Kyle MacLachlan, Delroy Lindo, Johnny Sequoyah, Jamie Chung, Sienna Guillory, Arian Moayed - De Mark Friedman et Alfonso Cuaròn - Produit par J.J Abrams
Night Shift
Avec Eoin Macken, Freddy Rodriguez, Ken Leung, Robert Bailey Jr, Brigid Brannagh, Brendan Fehr, Jill Flint, Jeananne Goossen, J.R. Lemon - De Gabe Sachs et Jeff Judan
The Blacklist
Avec James Spader, Diego Klattenhoff, Megan Boone, Ryan Eggold, Henry Lennix, Ilfenesh Hadera - De Jon Bokenkamp
Welcome to the Family
Avec Mike O'Malley, Ella Roe Peck, Aramis Knight, Ricardo Chavira, Justina Machado, Joey Haro - De Mike Sikowitz
Undateable
Avec Brent Morin, Rick Glassman, Chris d'Elia, Ron Funches, Bianca Kajich, Briga Heelan - De Adam Sztykiel - Produit par Bill Lawrence
Ironside
Avec Blair Underwood, Brent Serton, Pablo Schreiber, Neal Bledsoe, Spencer Grammer
Chicago P.D
Avec Tania Raymonde, Scott Eastwood, Melissa Sagemiller, Kelly Blatz



Renouvelées
Supernatural (Saison 9)
The Vampire Diaries (Saison 5)
Nikita (Saison 4, 6 épisodes)
Hart of Dixie (Saison 3)
The Carrie Diaries (Saison 2)
Arrow (Saison 2)
Beauty and the Beast (Saison 2)

Annulées
90210 (5 saisons, 114 épisodes)
The L.A Complex (2 saisons, 19 épisodes)
Emily Owens, M.D. (1 saison, 13 épisodes)
Cult (1 saison, 13 épisodes)

Commandées
The Originals (Spin off de The Vampire Diaries)
Avec Joseph Morgan, Phoebe Tonkin, Daniel Gillies, Daniella Pineda, Charles Michael Davis, Danielle Campbell, Leah Pipes, Claire Holt
Reign
Avec Adelaide Kane, Toby Regbo, Megan Follows, Anna Popplewell, Torrance Coombs, Rossif Sutherland - De Laurie McCarthy et Stephanie Sengupta
Star-Crossed
Avec Matt Lanter, Aimee Teegarden, Natalie Hall, Malese Jow, Titus Makin Jr, Grey Damon, Chelsea Gilligan, Greg Finley, Maggie Elizabeth Jones - De Andre Nemec, Josh Appelbaum et Scott Rosenberg
The 100
Avec Henry Ian Cusick, Paige Turco, Isaiah Washington, Matt Miller, Marie Avgeropoulos, Eliza Taylor, Kelly Hu, Thomas McDonell, Christopher Larkin - De Jason Rothenberg
Tomorrow People
Avec Peyton List, Robbie Amell, Luke Mitchell, Mark Pellegrino - De Greg Berlanti et Julie Plec
Et sur le câble...
Voici quelques annonces faites pour le câble ces dernières semaines :
USA Network
Annulées
Burn Notice (7 saisons, 111 épisodes)

TNT
Renouvelées
Rizzoli & Isles (Saison 4, 15 épisodes)
Dallas (2012) (Saison 3, 15 épisodes)
Falling Skies (Saison 3)
Franklin & Bash (Saison 3)
Major Crimes (Saison 2, 19 épisodes)
Perception (Saison 2, 14 épisodes)

Annulées
SouthLAnd (5 saisons, 43 épisodes)
Monday Mornings (1 saison, 10 épisodes)

Commandées
Lost Angels
Avec John Bernthal, Milo Ventimiglia, Jeremy Strong, Neal McDonough, Jon Bernthal, Alexa Davalos, Simon Pegg, Jeffrey DeMunn, Andrew Rottenberg, Thomas Jane - Ecrit et réalisé par Frank Darabont
The Last Ship
Avec Eric Dane, Adam Baldwin, Michaela McManus, Charles Parnell, Travis Van Winkle, Chrsitina Elmore, Sam Spruell, Rhona Mitra - Produit et pilote réalisé par Michael Bay
Legends
Avec Sean Bean, Ali Larter, Amber Valletta, Rob Mayes, Tina Majorino, Steve Harris - Ecrit par Mark Bombark - Produit par Howard Gordon et Jonathan Levin

Syfy
Renouvelées
Being Human (US) (Saison 4)
Defiance (Saison 2)

Annulées
Alphas (2 saisons, 24 épisodes)