Série Express : Reboot des Mystères de l'Ouest, un Mad Men à 30 Rock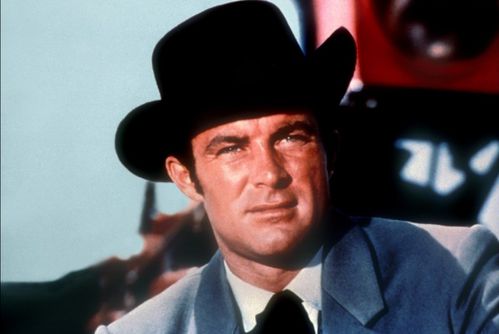 Les Mystères de l'Ouest : une version 2010 en préparation...
Est-il possible encore de faire un reboot d'une série aussi âgée et ayant mal vieillie ? La preuve en est. Wild Wild West en VO, succès dans les années 60 pourrait revenir via un projet de reboot de Ron Moore. Celui qui est à l'origine du reboot très réussit de Battlestar Galactica prépare donc un remake attendu... ou pas. Cette année semble être une nouvelle année à remake et reboot. Bryan Fuller prépare un remake de The Munsters pour NBC et David E. Kelley prépare un remake de Wonder Woman.
Pour en revenir aux Mystères de l'Ouest, qui pourrait succéder à Robert Conrad, Ross Martin ou Douglas Henderson ?
Un Mad Men au 30 Rock...
New York version années 60 version New York années 2000 ? C'est possible. En effet, l'acteur John Slattery plus connu sous le nom de Roger Sterling dans la série Mad Men (mais aussi son rôle de maire de Fairview dans la saison 3 de Desperate Housewives) va jouer dans un épisode de 30 Rock. Ce sera l'épisode 7 de la saison 5. Fous rires en perspective ? Et à quand Tina Fey dans Mad Men hein ?
FOX en mode projet : dont un de Marc Webb...
En effet, la chaîne FOX prépare de nouveaux projets. Le premier s'appelle Battleground. Il s'agira d'une comédie de bureau en single-camera. Marc Webb supervisera l'écriture et le pilote sera écrit par J.D. Walsh (Two and a Half Men, Dharma & Greg).
Autre projet, Stanley Park racontant l'histoire d'un groupe de jeunes qui vivent dans une banlieue de Londres et qui se retrouvent en pleine crise sentimentale qui sera à la base de changements drastiques. Il s'agissait au départ d'un pilote pour BBC Three mais finalement qui n'avait pas eu de suite. FOX récupère le projet comme annoncé lors du MIPCOM et le scénario sera écrit par Leo Richardson déjà à l'origine de la version britannique.
Et enfin, Splitting Adams. L'histoire d'une jeune femme se retrouve à vivre deux existences, une dans laquelle est une excellente avocate et une autre dans laquelle est jugée pour un crime. Le script a été commandé et sera écrit par David Hubbard.
Friday Night Lights : première promo pour la saison 5...
Voici la première promo pour la saison 5 de Friday Night Lights qui sera la dernière de la série :
ABC en mode projet : dont une adaptation de série espagnole...
ABC prépare actuellement le remake américain d'une sitcom en single-camera espagnole avec derrière le projet Sofia Vergara (Gloria dans Modern Family) et le producteur Ben Silverman. Le titre original "A quì no hay qui en viva" sera transformé en I Hate This Place. Un père old-school et son fils qui s'occupent des locataires excentriques de l'immeuble.
Et enfin, ABC prépare également une nouvelle série pour l'été prochain (et confirme son envie de diffuser des séries inédites l'été). Cette série est une série d'espionnage produite par Grant Scharbo et Gina Matthews (The Gates) et écrite par Greg Poirier (Benjamin Gates et le livre des secrets). Elle est décrite comme un mélange entre Taken et La Mémoire dans la Peau.
Castings en série : Smallville, Life UneXpected...
Dans Smallville, apparition de Elena Satine dans l'épisode 9 de l'ultime saison 10. Elle jouera la femme d'Aquaman.
Et dans Life UneXpected apparition de Krista Allen dans un épisode qui sera diffusé le 16 novembre prochain. Ce personnage aura un intrigue avec Baze.
NBC en mode projet : Man of the House, nouvelle sitcom ?...
Man of the House est une comédie familiale autour d'un père qui reste à la maison pendant que sa femme est au travail. Le projet est supervisé par Rob Cohen et le scénario écrit par Adam Sztykiel à qui l'on doit notamment la co-scénarisation du film Le Témoin Amoureux.
The CW en mode projet : Danni Lowinski remake US !...
The CW vient de dire oui au pilote de l'adaptation d'une série allemande. Son nom ? Danni Lowinski. Jenny Snyder Urman (90210) devrait signée le scénario du pilote. Pas de commande de script, directement un pilote. On peut donc penser que la chaîne voudrait peut être tenter un lancement en mi saison si cela lui est concluant. C'est l'histoire d'une coiffeuse qui a mené son bout de route en droit et obtenu ses diplômes, pour finalement se voir repousser par les firmes n'étant pas intéressées pour l'employer. Déterminée à réussir, elle monte sa propre affaire, en s'installant dans un centre commercial.